Chiropractic Adjustment Techniques We Use For the Council Bluffs area, including Underwood, Carter Lake, Neola, and Treynor, IA
Chiropractors use hands-on and instrument-assisted techniques to make adjustments that enhance your quality of life. Some of the most common chiropractic techniques include the following:
Diversified Technique
The diversified technique is a hands-on method of spinal alignment that requires extreme precision. It's one of the most common techniques chiropractors use to restore a patient's range of motion due to misaligned bones and joints.
Drop-Table Technique
This chiropractic treatment requires using a specially-designed table with mechanisms that "drop" one section of the table the patient fractions of an inch while the chiropractor makes manual adjustments. 
How Does Chiropractic Adjustment Help?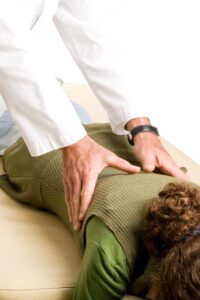 Chiropractic adjustments are a safe and effective treatment for everyone, from infants to seniors. Anyone can suffer from spinal misalignment, and chiropractic care can get them back on track.
Common reasons to get a chiropractic adjustment include:
Neck pain
Back pain
Headaches
Fibromyalgia
Herniated disc
Car accident injury
Sports Injury
Sports Injury Chiropractor
Sports injuries might come from a specific incident or result from the wear and tear on your body from years of playing sports. Examples of sports injuries include tennis elbow, back problems, rotator cuff problems, or other alignment or joint issues. 
Our chiropractor can assess the extent of the injury and develop a care plan to help relieve pain and correct your misalignment. 
Auto Accident Chiropractor
Many patients visit a chiropractor after a car accident to treat whiplash, which happens when your head snaps forward and backward because of a sudden impact. Whiplash affects the soft tissue in your neck and can cause spinal misalignment, which our chiropractor can treat.
Professional Chiropractor in Council Bluffs, IA
If you have chronic pain or reduced mobility, Dr. Campbell and our team at Aligned Chiropractic offer a range of chiropractic treatments in Council Bluffs, IA. Contact us today!